Delaware Small Business Chamber:  A Local BPA Supporter, Offers Six $500 Scholarships to BPA junior/senior students: two (2) students in each county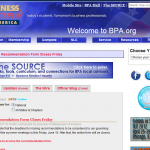 This is the national BPA website with information on National Officers, the NLC, and upcoming events. You can read articles on the wire or shop for BPA merchandise.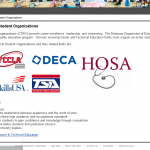 At the DOE webpage you can find information about other Career and Technical
Student Organizations, a calendar of events, as well as information useful for
parents.
Chapter Websites and Social Media Pages
We would like to gather URLs of various websites and social media pages (i.e. Facebook, twitter) of local chapters. If you know of any such sites please contact Cheryl Calicott-Trawick so that it can be added to the list at cheryl.trawick@delawarebpa.org