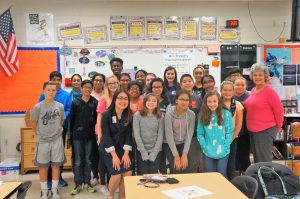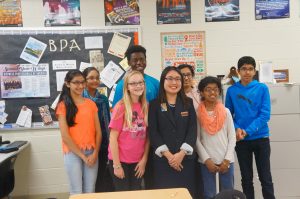 SOLT Secretary, Grace Yeung, received an enthusiastic and warm welcome at the Thursday, November 17th meeting of the Alfred G. Waters M. S. BPA Chapter.  Grace shared the 2016-17 BPA program agenda, discussed her experiences as a member of the Student Officer Leadership Team (SOLT), elaborating on the roles and responsibilities of each officer, and encouraged student participation in the SOFAD program. Members of the chapter and their advisor,
Mrs. L. Prickett are pictured above with Grace.
Has your chapter invited your Buddy School Officer to attend and present at your meeting?  If not,  hurry, do so now because the SLC will be convening all too soon.