Welcome to Business Professionals of America
We are excited to begin our new membership year.  The online membership system opened Thursday, September 1
st
.  To access the online system, log on to
www.registermychapter.com/bpamem
, select Member Log-in and enter your username/password.
If you are looking to start a new chapter, go to http://www.bpa.org/membership/stepbystep
Please remember to update all of your contact information and change our password during your initial log-in. The 2016-17 membership year holds exciting member opportunities including the 2017 NLC in Orlando, Florida, the BPA University online system, intense competitive events and partner programs and a renewed Alumni Division!
Start your membership year off without hesitation, join today!
The Fall Leadership Conference
was a blast!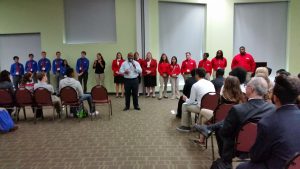 February 21 and 22, 2017
Dover Downs Hotel and Conference Center
Registration Opens December 1, 2016
National Leadership Conference
Orlando, Florida
May 10-14, 2017