2020-2021 State Officer Leadership Team (SOLT)
Rachel Brzezicki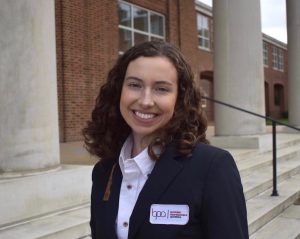 BPA Delaware State Association President 
Thank you Delaware BPA for putting your confidence in me to serve you as the State President this year! I am thrilled to spend my sixth year in BPA as part of the SOLT and dedicate this final year in the secondary division to you, the amazing members that are what make our state association so great. Through BPA, I have made lifelong friends, developed and perfected valuable professional skills, and traveled to places I never thought I'd be able to through a student-run organization. All of this has majorly contributed to my hefty aspirations for the future and shown me that nothing, in fact, is too "unrealistic." In addition to my involvement in this organization, I also serve as a Math League Captain, Environmental Club Founder, and Food Bank of Delaware Intern. Varsity and travel softball, National Honor Society, as well as Moose Youth Awareness are also some of the things that I take part in. I am so incredibly excited to take part in this year-long journey with you, as well as the rest of the State Officer Leadership Team. Let's do amazing things! #BPAAllDay
"If you have built castles in the air, your work need not be lost; that is where they should be. Now put the foundations under them." ― Henry David Thoreau
Please don't hesitate to reach out. Your input is most important for us to better our organization. My email is rbrzezicki@delawarebpa.org
Krunal Patel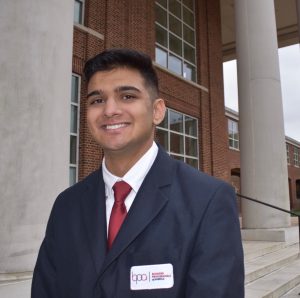 BPA Delaware State Association Vice President
What's up Delaware BPA! It is my honor and pleasure to have the opportunity to serve as your 2020-2021 State Vice President! BPA has made a big impact on my life and has taken me to heights which are unimaginable. It has given me numerous opportunities and life changing experiences. I am currently a senior at Delmar High School in Delmar, Delaware. Along with BPA, at Delmar, I am involved in Student Government Association, Key Club, National Honor Society, Spanish Honor Society, and Math League. In the future I plan on going into the law field and pursue my dream of becoming a corporate lawyer. BPA has given me many opportunities and has taught me many valuable lessons. It is my goal to bring upon these opportunities and lessons to all the Delaware BPA members. I would like to thank everyone for the support and look to inspire and support each and everyone one of you. Thank you! #BPAAllDay
"The two most important days in your life are the day you are born and the day you find out why." –Mark Twain
Let me know your thoughts and concerns. Communication is key. Please feel free to contact me at: kpatel@delawarebpa.org
Nidhi Patel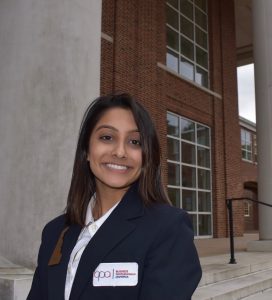 BPA Delaware State Association Secretary
Hey Delaware BPA! Thank you for giving me the honor and privilege to serve as your State Secretary for the second year in a row. Through my experience I have been able to facilitate workshops to assist and plan the 2020 State Leadership Conference which has only made me realize the dedication of all of our members, advisors, judges, proctors, and executive board members. I have been in BPA for six years now and currently attend Odyssey Charter School (OCS). Outside of BPA, I dedicate my time to Model United Nations, Youth in Government, Student Body Government, Volleyball, Youth Environmental Summit, Apollo Youth in Medicine, National Honors Society, and Rho Kappa. In the future I plan on going into the medical field and hope to save several lives. Throughout the course of my life, BPA has always supported me during the most challenging stages of my life. This year I plan to serve this organization once again and accomplish great things with all of your support. 
"The only limit to our realization of tomorrow will be our doubts of today." ~ Franklin D. Roosevelt
Please do not hesitate to reach out to me. All of your questions and concerns are vital for the betterment of our organization. You may reach out to me at npatel@delawarebpa.org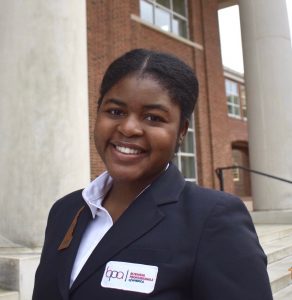 Desere Ndikum
BPA Delaware State Association Treasurer
Delaware BPA I am proud, honored, and thankful to be serving as your 2020-2021 Stare Treasurer. I have been in BPA since ninth grade and I have truly realized anything is possible. I used to look at the state officers at the state leadership conference and say "I could never do that," now here I am. My BPA journey has taken me on a roller coaster ride from memorizing my speech the night before conference in ninth grade to forming a campaign and working on my events months in advance. I strive to connect with all the BPA members and to be a tool in service of all the BPA members. When I am not doing BPA I involve myself in Model UN, Multicultural Club, Dual school, Entrepreneurship club, and National Spanish Honor society. Three of my main hobbies include watching Naruto, sewing, and listening to music. In the future I plan on going to college for international business, and business management. I plan to one day own prospering businesses, and become an Actress. BPA has taught me to be confident in myself, thanks to the wonderful experience from the previous officers. I can only hope to shape up to that, or even level up. In doing that, I hope it will show all of you nothing is out of reach.
"Don't be satisfied with stories, how things have gone with others. Unfold your own myth." ~ Rumi
Do not hesitate to contact me with goals, questions, or anything. I am open and will always get back to you. dndikum@delawarebpa.org
Rahul Konkimalla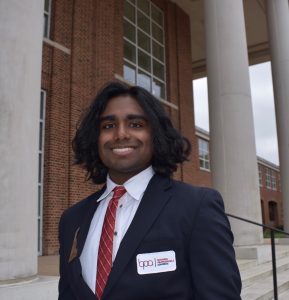 BPA Delaware State Association Historian
Hi Delaware BPA! My name is Rahul Konkimalla and I have been given the privilege of serving as your 2020-2021 State Historian/Parliamentarian. I've been a member of BPA since 7th grade and have participated in a variety of events, from the Financial Management test to Video Production team. BPA has taught me how to become a better public speaker and more importantly, a better leader. I am currently a senior at Newark Charter High School in Newark, DE. Aside from BPA, I am a part of my schools Entrepreneurship club, Finance club, Math League, and National Honor Society.  I run indoor track in the winter and play lacrosse in the spring. My hobbies include playing new sports and investing in the stock market. After high school, I hope to get my bachelors degree with a dual major of Economics and Computer Science. BPA has helped me apply my skills to real-world problems and has affected me tremendously in the duration that I've been a member. I wanted to serve as your State Officer in order to spread the benefits of BPA and help new members be impacted in the same positive manner that I was impacted. I'm looking forward to a great year!
"The people who are crazy enough to think they can change the world, are the ones who do." ~ Rob Siltanen
Please feel free to contact me at rkonkimalla@delawarebpa.org or my instagram account @debpahistorian
Kinga Gul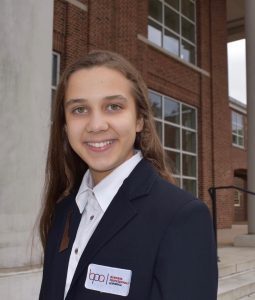 Middle-Level Representative
Hello fellow Delaware BPA members! I am Kinga Gul and I have the honor of serving as your 2020-2021 Delaware BPA Middle Level Representative. I am a 7th grader at Newark Charter Jr./ Sr. High School. There, I take part in multiple extracurricular activities such as BPA, Science Olympiad, and Student Council. In my free time, I enjoy figure skating, playing volleyball, and spending time with friends and family. My year in BPA has made me aware of numerous opportunities that we, as members of BPA, can take advantage of. In the following year, I hope to become your voice; the voice of all of the Middle Level members in BPA that are trying to get their thoughts out there, and I would like to fulfill the role of Middle Level Representative where I serve you to the best of my ability.
"The biggest adventure you can ever take is to live the life of your dreams." ~ Oprah Winfrey
Please do not hesitate to contact me at:
Email:  kgul@delawarebpa.org
Instagram: @debpamlrep
Dr. Lisa Wilson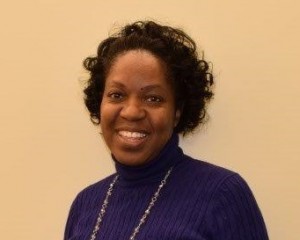 BPA, Delaware Association State Advisor
As a life-long learner and teacher at heart, I am passionate about developing programming that will inspire and activate the gifts and talents in each student.  I have worked in the private sector for more than a decade.  Upon discovering my "calling" in life, I was able to teach business at the secondary level for more than 16 years.  I currently serve at Delaware Department of Education and provide state leadership for business, finance, and marketing programs.  In addition, I am the State Advisor for Business Professionals of America.  My educational background includes a Master of Arts degree in Curriculum and Instruction from Delaware State University and a doctorate degree in Curriculum and Educational Technology from the University of Delaware.
"We do what we have to do, so we can do what we want to do." Dr. James Farmer
Please contact me at: lisa.wilson@delawarebpa.org